The story behind Canal Park's most unusual sculpture – Duluth News Tribune
DULUTH – 'Man, Child & Gull' was never meant to be approached from behind.
"It was basically meant," sculptor Sterling Rathsack recalls, "to face the street." As visitors to Canal Park approached the grassy hill in front of the Lake Superior Marine Visitor Center, they would see a bronze likeness of a man and child playing with one of the ubiquitous gulls. "I knew people would probably have their kids sit on their laps and things like that," Rathsack said.
The place where Rathsack's sculpture was to be placed was given to the great "Determined Sailor" by Richard Salews. This meant that "Man, Child & Gull" ended up in the flow of pedestrian traffic on the west side of Canal Park Drive, just south of the clock tower marking the entrance to the Duluth Downtown Waterfront District.
Visitors walking north along Canal Park Drive, away from the lake, are now faced with the back of a man doing a squat jump atop a bollard. Not the most flattering angle.
"The awkwardness of the back contradicts the principles of sculpting," Rathsack said. Ideally, he noted, the sculptures are meant to have equal visual impact from all angles. "But you're sacrificing principle for function, or just the basic impact of the piece."
Thirty years ago, Rathsack couldn't be picky about investing; he was happy to receive a rare commission for a large-scale sculpture. "Monumental sculpture is really competitive," Rathsack said. "A lot of people start and go to art school and they want to do great things, but they do some public art and they go into teaching. Like me."
The artist has been teaching at the Fond du Lac community college in Cloquet since 2006. He also sculpts and paints in the same upper studio where he created "Man, Child & Gull". He was the only local artist selected for the Canal Park Public Arts Project, which spent a total of $223,000 to commission seven pieces which were installed in the early 1990s.
"Mine was $20,000 or something," Rathsack said. "You couldn't cast (the sculpture) for twice as much now."
Standing by the Maritime Museum as he designed his sculpture, Rathsack watched families feeding gulls – and he saw those gulls land on the head of what was then the most prominent sculpture in Canal Park.
Albert Woolson, the last surviving Civil War veteran, died in Duluth in 1956. A centennial statue now stands in front of the depot, but until 2004 the sculpture was located in Canal Park. "The seagulls all sat on his head," Rathsack said, "which caused his face to whiten in streaks, which was quite undignified."
Hoping that a bronze seagull would keep real birds from perching on it, Rathsack achieved what he calls a "sort of totemic effect" with the seagull perched on the head of a child, who was herself perched on the shoulders of a man squatting on a bollard. . The sculpture took on poignant new resonance in 2009, when a Two Harbors man told the News Tribune that he and his late son struck a similar pose – with a seagull – while Rathsack watched people.
Rathsack worked at the Duluth Children's Museum when he was creating "Man, Child & Gull", and the artist hired a colleague from the museum to pose for the adult figure. "He hunkered down on top of a booth in my studio, under a skylight," Rathsack said. "He didn't have to do it for hours straight, but he certainly had to go for half an hour straight." There was also an actual model for the child, but Rathsack didn't need the man and the child to pose together; the sculptor worked from photos and drawings of the girl.
The artist only sculpted the human and avian figures. The base of the sculpture is a real mooring bollard which was already in the possession of the city. "In retrospect," Rathsack said, "with the right amount of funding, we should have had a bronze bollard made." 30 years later, however, the figurines remain firmly attached to the cast iron base.
Duluth's diligent maintenance efforts have kept all of the Canal Park sculptures in excellent condition. "The city has kept the patina clean really well, and it's just been wax-washed," Rathsack said of his piece. In other cities, "many sculptures are ignored", leading to obvious degradation.
In 2011, the Duluth Budgeteer reported on the cleaning of the Rathsack sculpture that year ("this whimsical trio is very popular with visitors"), with a conservation team spotting "numerous gum and food stains, small patches of graffiti and particularly worn places where people stand on them to take pictures."
Canal Park, and the Twin Ports in general, have come a long way since 1992, Rathsack said. The same week "Man, Child & Gull" was picked up for casting, Superior's infamous "Toxic Tuesday" benzene spill forced the evacuation of 30,000 people.
Rathsack remembers when what is now Canal Park contained industrial waste dumps. The way the region has transformed is "pretty amazing", he said. "It was a big turnaround for the city."
The artist is happy to know that his work remains popular with visitors, but Rathsack avoids the now crowded tourist area during peak season. "I never go there in the summer," he says. "I wouldn't go there before Christmas, probably."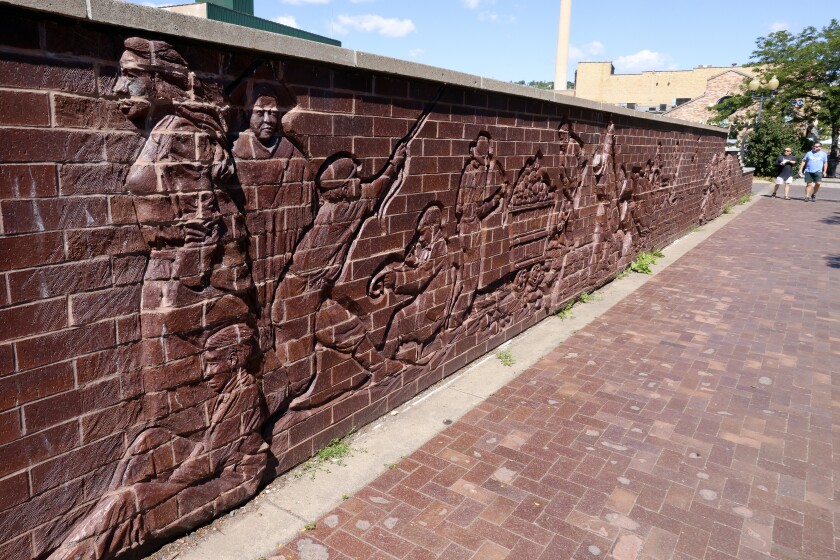 We may have established the proper name for the "Northland Murder Thistles" I wrote about in last week's column. A Facebook friend, recognized them as male thistles, an invasive species that the University of Minnesota Extension site recommends reporting to the Department of Natural Resources. My sister, who visited this week, agreed that the thistles must be falling. "I don't know if I would encourage them," she said cautiously. OK, I'll cut them…as soon as I can get my hands on a really long pair of scissors.
Blacklist Brewing is about to have a little more competition, but not for beer. This week, North Shore Adventure Park in Silver Bay opens six ax throwing lanes in a dedicated structure just below the park's high ropes course. "The sport is easy to learn and addictive," site president Alice Tibbetts said in a statement. "It's rewarding to just throw the axe; it's even more fun when guests realize they can hit the mark pretty quickly." There's a ribbon-cutting ceremony on Thursday morning – but will the ribbon be cut with giant scissors or a flying axe?
I thought back to the peaceful set of "Merry Kiss Cam" while watching "Irma Vep", the new HBO Max series about a troubled author adapting a series of 1910s silent films into a TV show. It's written and directed by Olivier Assayas, who made a 1996 film, also called "Irma Vep", about a troubled author adapting that same silent film into a film. It's all extremely meta, but still less confusing than the "Stranger Things" season four finale.
I don't know about Olivier Assayas, but René Vidal – the fictional director of "Irma Vep" on the show – wouldn't last five minutes trying to film a scene in a hotel lobby in Duluth, with tourists accidentally trip over shots. "Merry Kiss Cam" director Lisa France handled it with aplomb.