Sculptors vie for top prize in Sale
Tom Parry and Stefan Bradley
Sale once again hosted the Victorian Sculpture Prize during the Melbourne Cup weekend.
Organized by the Association of Sculptors of Victoria (ASV), the event featured 126 large and small works of art on display within the grounds of the Port of Sale from 28 October to 1 November.
While wet and cool weather kept attendees at bay on Friday and Saturday, on Sunday the skies were clear and the temperature warm enough to entice locals to visit the exhibit.
Many sculptors who participated in the award were on hand to discuss the inspiration and methods behind their works, such as Chris Anderson.
He told the Gippsland times that one of his sculptures, titled Flutterbywas first considered while he and his wife were weeding their property.
"She was tired, so she sat down on a rock with her head in her hands, resting looking at the garden…I noticed flowers passing by her side, swirling around her and kept going," Mr. Anderson said.
The inspiration for Flutterby came to him at that time.
Mr. Anderson's work is made of corten steel and includes 100 individually cut butterflies that are welded together.
"I started at the bottom, literally put the next one in and slowly worked my way up," he said.
East Gippsland artist Paul Gennings also attended the event, having entered three sculptures for this year's award.
Mr. Gennings chose to come in both to support the ASV and because his job is better suited to an outdoor environment.
"It's fun to be able to play in a space as big as this (the Port of Sale), and among so many great works as well," Gennings said.
He also spoke positively about the interaction between the artists, noting that other attendees had visited his studio over the weekend: "It's a great way to network and conceptually talk about your work with other artists."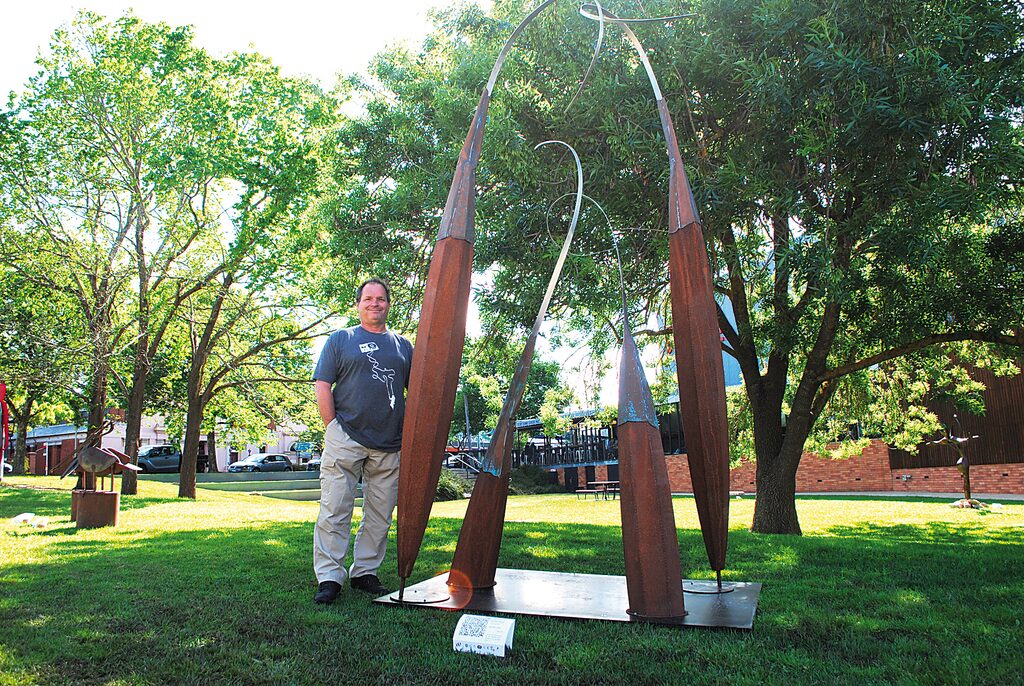 All entries were assessed by three judges – one from the Wellington Shire Council, the second from the Gippsland Art Gallery and the third from the ASV – all of whom were looking for a piece that could be placed in a public space.
"Some parts cannot be considered for this because they would not be safe (or) durable," Mr. Anderson explained.
"And if they're not vandal resistant, that would be a huge concern as well, unfortunately."
This year's Grand Prize went to Boolarra resident Paul Jesse for his sculpture titled Helix.
The piece, which took six months to build, is made of ferro-cement with mosaic tiles attached and is inspired by DNA coding.
Mr Jesse said he entered the award because he liked the idea of ​​his play being performed in a public place.
"It's not that I thought I would have a chance of winning, but the idea of ​​it happening in a lovely setting, rather than some kind of concrete or someone's backyard…was a big motivation," Jesse said.
The first Victorian Sculpture Prize was held in Sale last year, with the winning work by artist Andre Sardone – Sparkling Penny Tree – purchased by Wellington Shire and placed in Sale Botanic Gardens for public display.