karolina halatek's spiral sculpture immerses viewers in light + mist
karolina halatek designs a multi-dimensional sensory experience
contemporary artist Karolina Halatek evokes a giant tube facility which spins in a spiral to immerse the spectators in a white glow carrying LEDs light and soft fog clouds. Entitled "Ascent", the sinuous form emerges from a raised platform, encircling the visitor in an immersive physical and sensory whirlwind that transports them to another spatial and spiritual dimension. With human interaction, the spiral transforms from a stand-alone sculptural piece into a dynamic, monumental and participatory space, opening up new perceptions of reality and space, and drawing attention to bodily sensations in the environment. explicit.
'Ascension' by Karolina Halatek | photo of Adam Bogdan
an immersive display of light and mist transports viewers
"Ascent" by Karolina Halatek offers a unique immersive experience that invites viewers to enter the spiral and discover a new spatial dimension integrated into the space of reality. As the viewer enters the interactive installation, they become its focal point, engulfed in vibrant light emanating from the tubular spiral and a slowly rising mist of fog. They are free to approach and interact with the work according to its sensual responses and changing displays, each time evoking a new perceptual imagination. "The site-specific installation embodies a variety of archetypal and physical associations – from microscopic observations, electromagnetic wave dynamics and atmospheric phenomena from a whirlwind to a spiritual epiphany." explains the artist.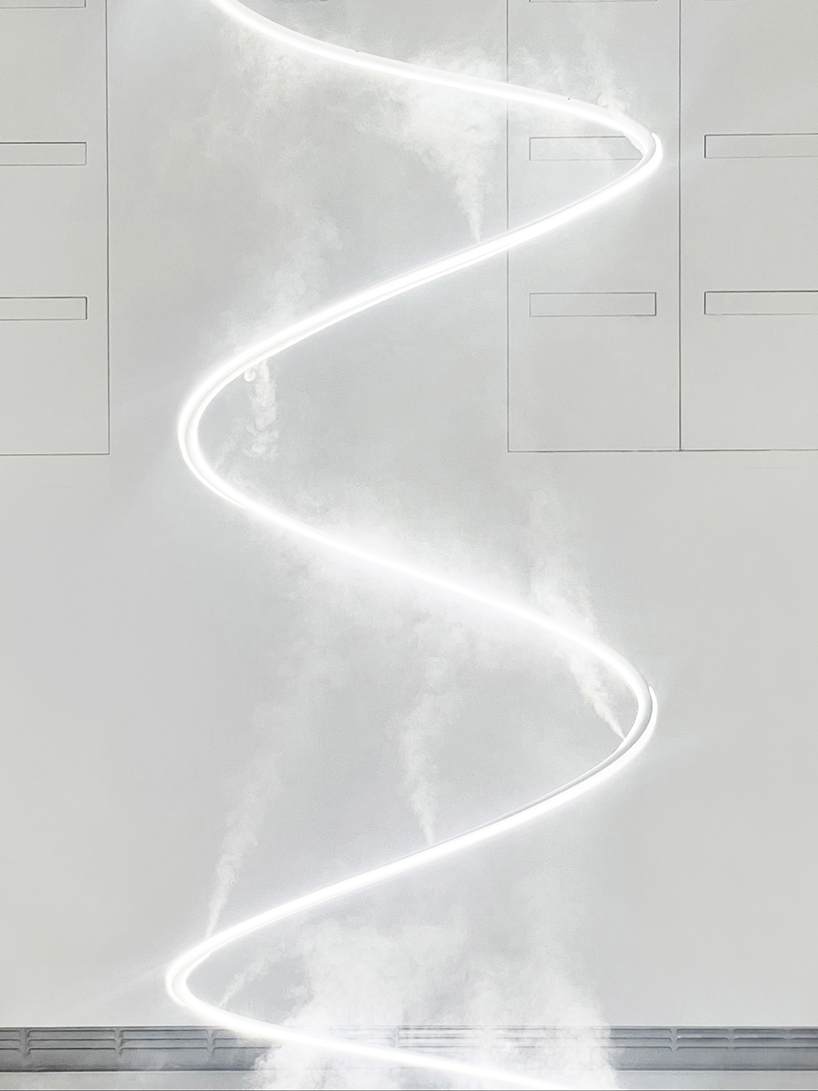 vibrant light and rising fog mists emanate from the tubular spiral
explore multi-sensory perceptions through design
The work of Polish artist Karolina Halatek characteristically uses light to create site-specific experiential spaces that seamlessly integrate visual, architectural and sculptural elements. Considering his work primarily as a catalyst for experiments, Halatek's installations display remarkable immersive characteristics that are often the result of collaborations with quantum physicists and precision mechanical engineers.
His most recent work 'Ascent' provides a unique artistic experience at the exhibition 'Sensoria: The Art and Science of Our Senses' at the Laznia Contemporary Art Center in Gdansk, Poland. The exhibition curated by Nina Czegledy is a multi-site project focusing on multi-sensory perception in the arts and sciences. The transdisciplinary initiative, which will be presented until October 30, 2022, explores our sensory world through scientific, social, cultural and academic interpretations.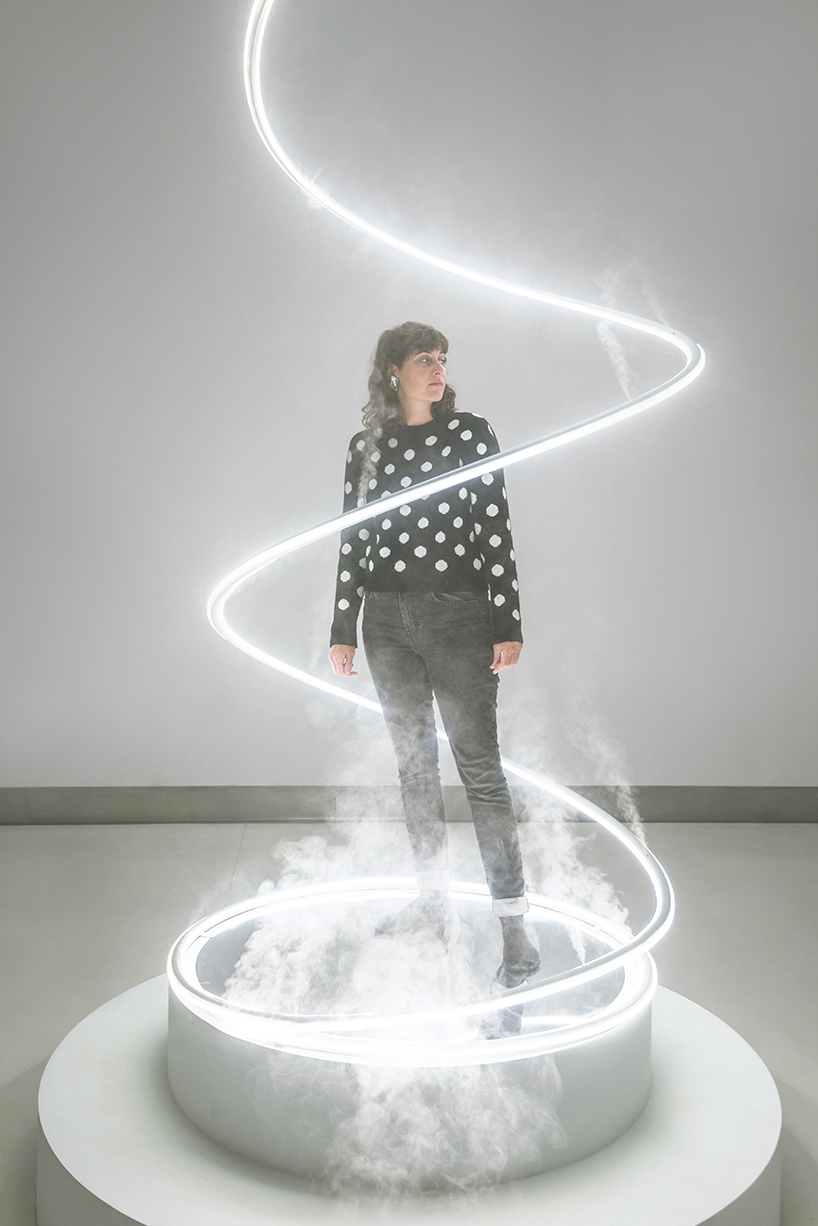 the spiral transforms from an autonomous sculptural piece into a dynamic participative space | photo of Adam Bogdan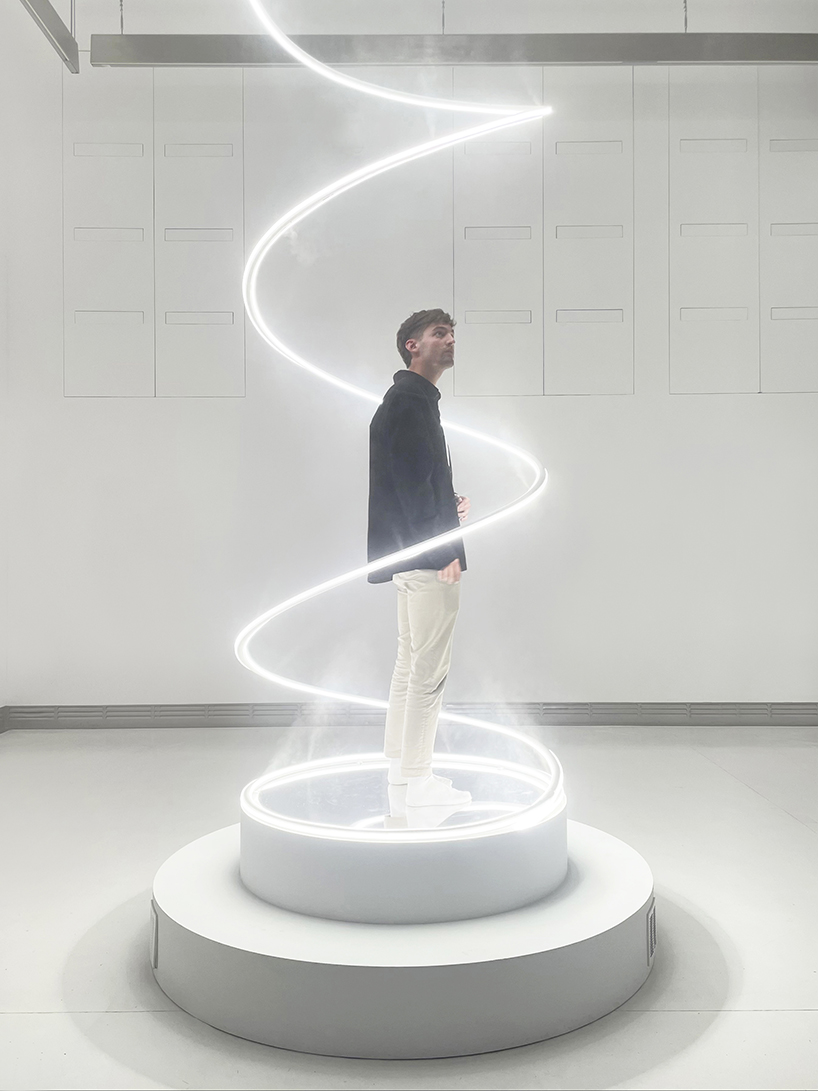 'Ascent' is made of wood, LED, PVC and steel | image of Karolina Halatek with Jose Corral