Artists who do not make art – FAD Magazine
Artists are, quite logically, the center of the art world. And it doesn't have to be just to make art.
These may be collectors, often through exchanges with other artists: earlier this year, Gagosian Gallery memorably presented the sculptures of Antony Caro alongside the American Abstract Expressionist works he obtained through these exchanges.
Artists can act as gallery owners, usually through artist-run spaces. Many commercial gallery owners are ex-artists, like Dave Hoyland of Seventeen and Andy Wicks of Fitzrovia Castor gallery which has just moved.
Artists frequently organize exhibitions. Often this reveals the inspirations of their own practice to illuminating effect, even if some of these shows seem a little superficial in their selection criteria, i.e. the artists simply choose their friends with no obvious consistency beyond . Two of this year's biggest exhibitions – the Berlin Biennale and documenta 15 – are curated by artists: the first by Kader Attia, who reinforces and expands on the core concerns of his own work to stimulating, even sometimes overwhelming effect; the latter in a contrasting and floating way by the Indonesian collective Ruangrupa, which invited other collectives to invite others without imposing themes, resulting in 1500 artists.
And artists can be writers – through the development of their own work and interests (Paul Klee is my favorite) or more broadly (Donald Judd was a top critic). Turps Banana Magazine consists entirely of painters writing about painting, while its new branch, Mass, features sculptors writing about sculpture. Elsewhere at FAD this week, I present painter Emma Cousin's essay on Milly Peck's exhibition at the Vitrine Gallery. Their studios are down the same hall in Peckham, giving Cousin a tightly informed, but also uniquely broad, perspective. Overall, then – unsurprisingly – the art world is better off for artists!
Art writer and curator Paul Carey-Kent sees a lot of exhibits: we asked him to write down everything that comes to mind
Categories
Key words
Paul Carey Kent
Paul's Art Stuff
Author
Paul Carey Kent
Art critic and curator, based near Southampton. I write most regularly for Art Monthly, Frieze, World of Interiors, Seisma, Border Crossings, Artlyst, … and, of course, FAD.
Seoul seems to be the next art city right now. This week sees the first Korean edition of Frieze, […]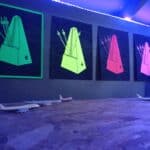 Hiraki Sawa: installation view of the Attic Shed in flight, 2022 Fancy a leisurely stroll around a few shows? It's delicate […]
Every five years, documenta's massive exhibition in Kassel, Germany, seeks to anticipate curatorial trends in the art world. documenta fifteen (until September 25) was organized by the Indonesian artist collective Lumbung inviting other collectives to issue invitations.
Perhaps it is to be expected that many flowers will be displayed in London galleries at the height of a too hot summer. For instance: