2020 Artsakh War Vet finds an outlet in sculpture
Eric Grigoryan, 22, doesn't like to talk much about the 2020 Karabakh war and how he barely survived the fighting as a tank driver/mechanic.
The former resident of Shushi is now looking to the future despite yearning for his family home now under Azerbaijani control.
The young man has now turned to sculpture as a form of therapy, a way of expressing how this war has changed his life. He lost friends during the war and was badly injured himself, losing a leg.
Eric says he can take the physical pain, but the emotional impacts are profound.
This journalist spoke to Eric during an exhibition in Yerevan about his miniature sculptures at the Art Kvartal gallery. The exhibition is called Kutchir Emotions. In the Armenian dialect of Artsakh, "kutchir" means small.
Eric, the youngest of three brothers, says the sale of his works will go to help injured Armenian soldiers in the provinces.
It's early and there's no one in the gallery.
"I miss everything about Shushi, starting with the air. It's your feelings that aren't lost yet. I miss the church, the stones, the yard, the hills," Eric tells me.
The fifty bronze statuettes are placed on stones that Eric's father brought back from Artsakh.
During the war, father and son were at the front. They met once during the fights. The second meeting took place at Erebuni Hospital in Yerevan. A week after Eric was injured, his father was also injured. The two ended up in the same hospital.
Eric and his mother now live in Yerevan. Eric's father returned to Artsakh after being treated and is now a volunteer in Askeran. Eric was a sophomore in Agriculture and Animal Husbandry when he was drafted.
It was October 24, 2020. Eric and 2 other Armenian soldiers were sheltering in a ditch from Azerbaijani artillery fire. They were in close combat, throwing grenades at the enemy.
A shell exploded above them and they were hit by shrapnel. One of them died on the spot.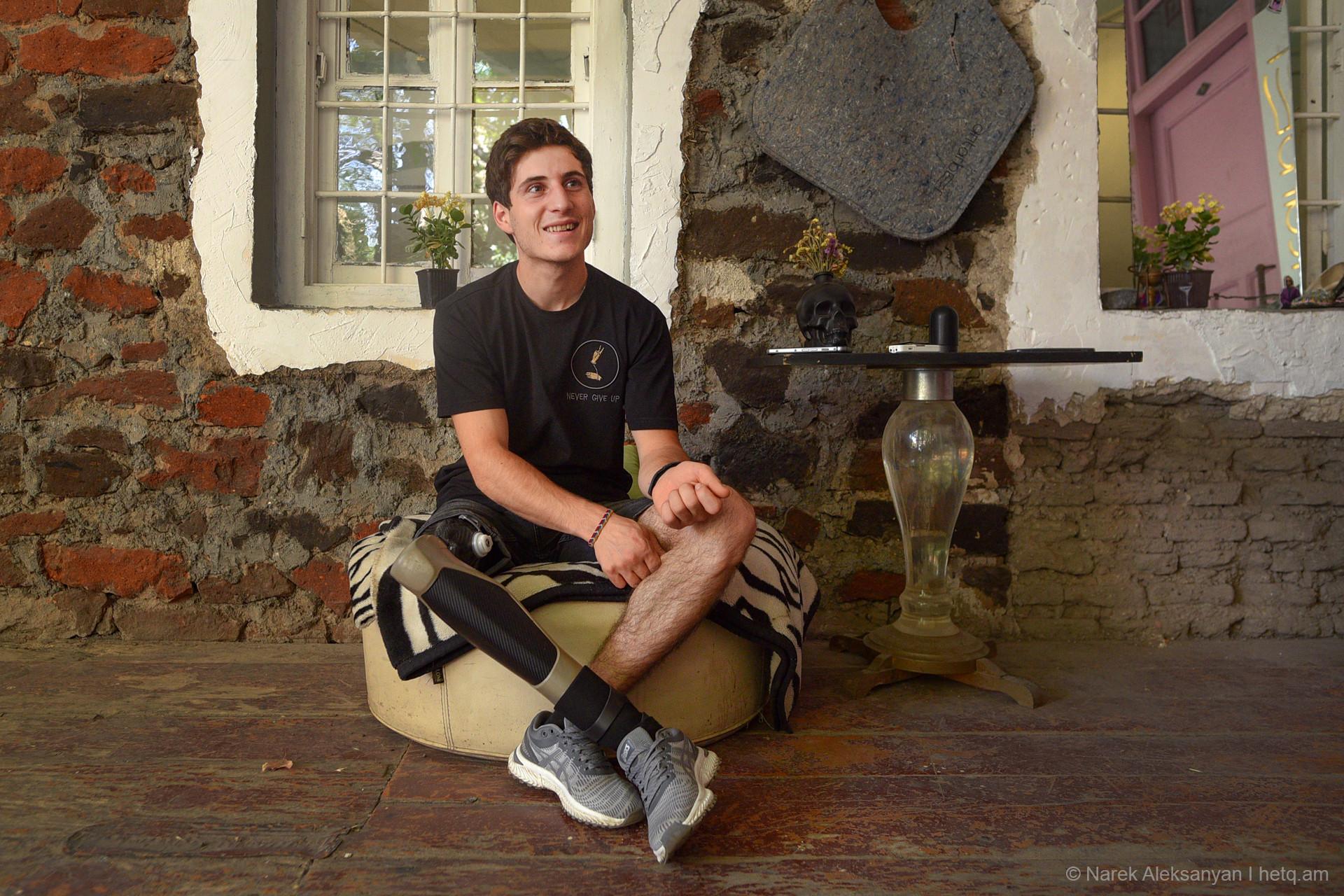 There are over 100 shrapnel in Eric's body. He says doctors removed the hand fragments, but couldn't remove the one near his heart. He says they don't bother him.
After the exhibition, Eric will leave for Artsakh.
When asked if he received any military awards, Eric smiles and asks why should he?
One of his works in the exhibition is called "The Man Near the Mirror".
"He always looks in the mirror and cries. He is old and disgusted with himself. But life is given to man once. a subject of sadness. The world is infinite in its good manifestations. You have to stay young inside, not to stop, "says Eric.
Asked about his future projects, Eric says he will probably tackle bigger sculptures.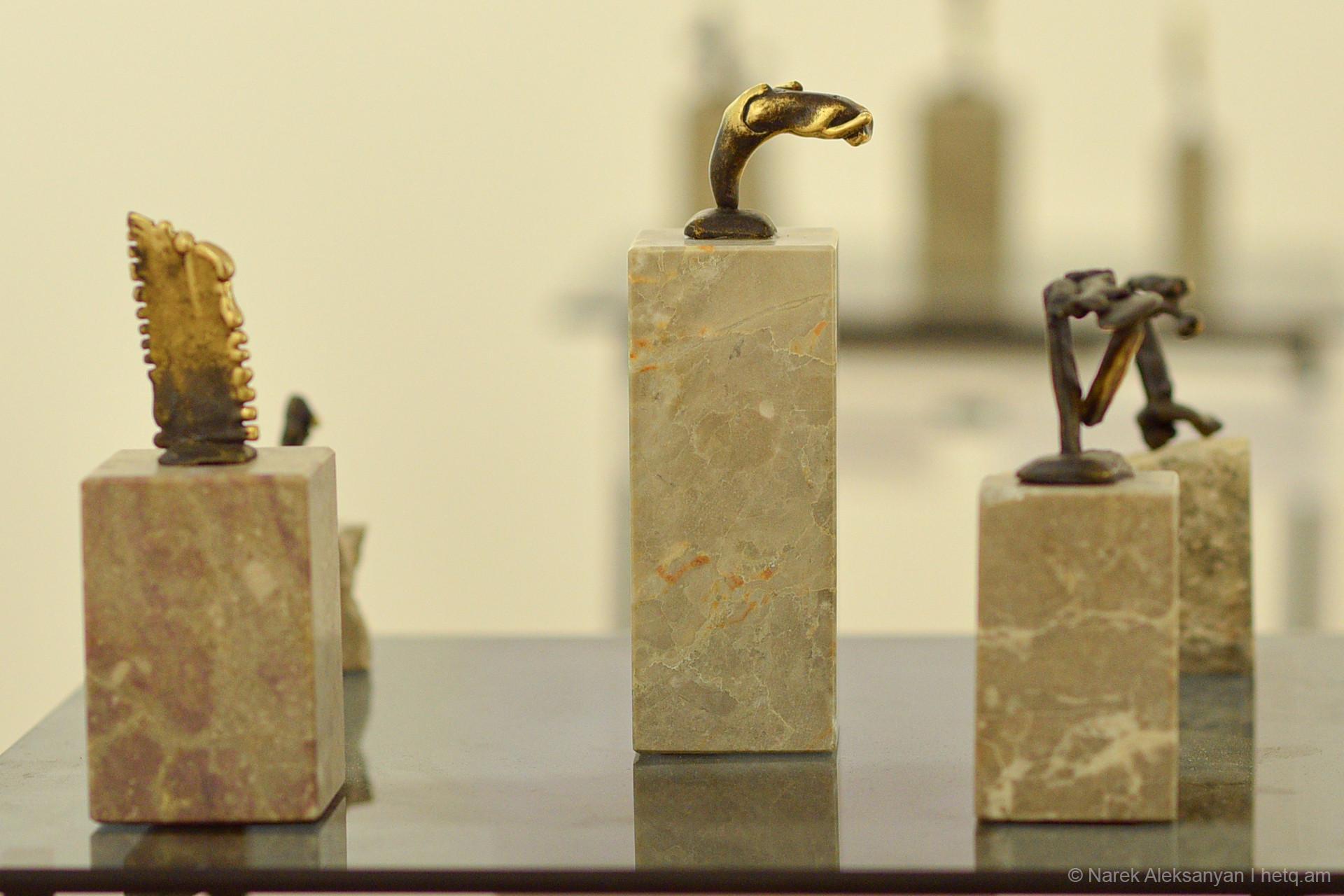 "Eric, if you ever go to Shushi, what will you do first?" I ask.
"I'm going to visit our house and sleep," he replies. We are silent again. I turn off the recorder.
"Never give up" is written on Eric's shirt. It's his mantra. He says he updates his closet with T-shirts with such inscriptions.
He continues to jot down short reflections to accompany his sculptures.
"I'm thinking of connecting all these lines, but I don't know what the result will be. How many stories can you place on a law? " he asks.
PS – Eric's exhibition will be open until the end of June.
Pictures of Narek Aleksanyan
If you found a typo, you can let us know by selecting the text box and pressing CTRL+Enter